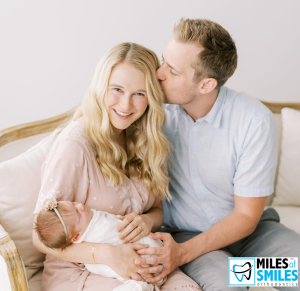 Dr. Andrew Ray grew up in Atlanta, Georgia, where he enjoyed playing basketball, swimming competitively and doing any outdoor activity. Fun fact: he is an identical twin, and he often enjoys switching places with his twin to see if anyone notices.
Dr. Ray attended Brigham Young University on an academic scholarship, graduating with honors and a Bachelor of Science degree in neuroscience and minoring in both chemistry and business management. Moving forward, he attended four years of dental school at the University of Utah School of Dentistry, receiving multiple awards and honors, the most impressive of which is his "Excellence in Orthodontics" award given to a single student who excelled clinically in the field of orthodontics. From there, Dr. Ray moved back to Georgia to complete his orthodontics residency at the Dental College of Georgia at Augusta University. He fell in love with orthodontics while attending a lecture discussing straightening teeth and how a pleasing smile can boost self-esteem and confidence. Realizing that orthodontics benefits all aspect of life, academically, socially and professionally, Dr. Ray decided to build a career in helping set people up for success in life.
Dr. Ray is now a Board Certified orthodontist through the American Board of Orthodontics. Less than one third of orthodontists are able to carry this title, as it requires committing oneself to the highest level of patient care and demonstrating the skills, judgment and knowledge to ensure quality work and results. Still on a mission to broaden his knowledge, Dr. Ray attends numerous training and educational seminars. He looks forward to providing you with excellent orthodontic treatment.
Dr. Ray married his wife, Hannah, in 2018, and they welcomed their first child, a little girl, in 2021. As a family, they love to explore new areas, as they have lived in Georgia while running a private orthodontic practice for the past few years. They are so excited to be in California.